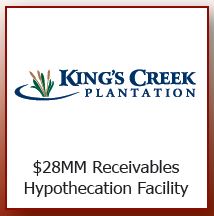 King's Creek Plantation Loan Extension
Wellington says Liberty Bank closed extension of lending relationship with timeshare resort King's Creek Plantation
Charlottesville, VA and Middletown, CT; September 2014 — Wellington Financial, the exclusive Resort Finance lending correspondent for Liberty Bank, says the bank recently closed an extension of its lending relationship  with King's Creek Plantation, in Williamsburg, Virginia.
"This is an important relationship for us," says Liberty Bank Vice President Denise Brewer. "The senior leadership at King's Creek impressed us with their acumen for management and sales; the resort, itself, is highly engaging; plus, they are in a highly valued vacation destination. Because of its historical district as well as the nearby amusement park, Busch Gardens Williamsburg, it's almost a year-round destination."
King's Creek Plantation Executive VP/COO/CFO Joe Cantrell says, "We are extremely fortunate to work with Liberty and Wellington. The loan process went very smoothly, thanks to the teams at both Liberty and Wellington."
ABOUT KING'S CREEK PLANTATION
Situated in Williamsburg, Virginia, King's Creek Plantation is an Interval International 5-Star Resort located within easy access of the Colonial Parkway, which links Williamsburg to historic Jamestown and Yorktown.  The resort features one, two, three and four bedroom homes amidst a complex offering multiple swimming pools, a year-round indoor aquatic center, jetted pools, saunas, large workout room, tennis courts, a basketball court, picnic areas, playgrounds, an 18-hole miniature golf course, jogging trail and more in a gated community. For more information, call 866-228-6796 or visit http://www.kingscreekplantation.com.
ABOUT LIBERTY BANK
Established in 1825, Liberty Bank (Liberty-Bank.com), based in Middletown, Connecticut, is the state's oldest mutual bank, with more than $3.5 billion in assets. Liberty Bank has been actively lending to the timeshare industry throughout the U.S. for over 30 consecutive years. The bank's commitment to superior service has resulted in lending relationships with some of the industry's largest and most successful developers. Member FDIC. Equal Housing Lender.
ABOUT WELLINGTON FINANCIAL
Wellington Financial (Wellington-Financial.com) is the exclusive Resort Finance lending correspondent for Liberty Bank and specializes in lending to developers of timeshare resorts, fractional resorts and retail land. Founded in 1981, the finance and service company offers a full range of products, including receivables hypothecation, purchase and conduit facilities; pre-sale and working capital lines of credit; acquisition, construction and renovation financing, as well as mezzanine and equity debt financing. President Ron Goldberg serves on the Board of Directors for the American Resort Development Association (ARDA).
MEDIA CONTACT FOR WELLINGTON FINANCIAL
Sharon Scott, RRP
SharonINK PR & Marketing
Sharon@SharonINK.com; 310-923-1269