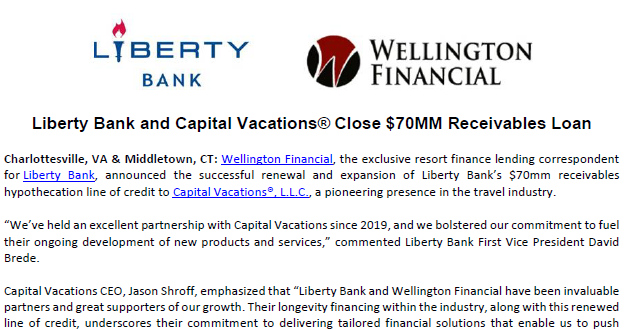 Liberty Bank and Capital Vacations® Close $70MM Receivables Loan
FOR IMMEDIATE RELEASE



Charlottesville, VA & Middletown, CT: Wellington Financial, the exclusive resort finance lending correspondent for Liberty Bank, announced the successful renewal and expansion of Liberty Bank's $70mm receivables hypothecation line of credit to Capital Vacations®, L.L.C., a pioneering presence in the travel industry.
"We've held an excellent partnership with Capital Vacations since 2019, and we bolstered our commitment to fuel their ongoing development of new products and services," commented Liberty Bank First Vice President David Brede.
Capital Vacations CEO, Jason Shroff, emphasized that "Liberty Bank and Wellington Financial have been invaluable partners and great supporters of our growth. Their longevity financing within the industry, along with this renewed line of credit, underscores their commitment to delivering tailored financial solutions that enable us to push boundaries and thrive."
Wellington Financial Executive Vice President Shawn Brydge noted, "Capital Vacations boasts an exceptional leadership team with whom we share a longstanding history of collaboration and mutual success. Liberty is excited to renew and increase their lending relationship as they pursue smart growth strategies and innovation."
About Liberty Bank
Liberty Bank (Liberty-Bank.com) has been actively lending to the timeshare industry throughout the U.S. for over 40 consecutive years. The bank's commitment to superior service has resulted in lending relationships with some of the industry's largest and most successful developers. The bank specializes in lending to developers of timeshare resorts, fractional resorts and retail land offering a full range of products, including receivables hypothecation, purchase, and conduit facilities; pre-sale and working capital lines of credit; acquisition, construction, and renovation financing. Established in 1825, Liberty Bank is one of the oldest and largest mutual banks in the country. With more than $7 billion in assets, Liberty Bank has 56 banking offices across Connecticut and one in Massachusetts. As a full-service financial institution, Liberty offers consumer and commercial banking, cash management, home mortgages, business loans, insurance and investment services. Named a Top Workplace every year since 2012 and a Forbes Best-In-State Bank in 2021 and 2022, Liberty maintains a longstanding commitment to superior customer service and unparalleled community involvement.
About Wellington Financial
Wellington Financial (Wellington-Financial.com) is the exclusive Resort Finance lending correspondent for Liberty Bank and specializes in arranging lending to developers of timeshare resorts, vacation clubs, fractional resorts, and retail land. Founded in 1981, the finance and service company works with many industry and non-industry lenders, operates as the lead arranger for Liberty Bank's Resort Finance division, and offers mezzanine and equity financing. President Ron Goldberg serves on the Board of Directors for the American Resort Development Association (ARDA).
Media Contact for Wellington Financial:
Shawn N. Brydge, RRP – 434-422-4952

About Capital Vacations®
Capital Vacations® (capitalvacations.com) is reimagining the travel experience by connecting Independent Resorts with travelers through our technology platform and vacation products. We partner with over 200 Independent Resorts across the U.S. and Caribbean, deploying strategic value-add tools that allow Independent Resorts to increase revenues across multiple channels. In addition, we service over 1,000,000 travelers a year with a hyper-focus on the owner and guest experience and the creation of long-term relationships.
Media Contact for Capital Vacations®:
Alli Beane – 202-997-3083