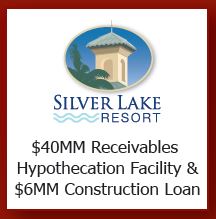 Liberty Bank expands lending commitment to Silver Lake Resort


Wellington Financial says Liberty Bank's relationship to Orlando-based timeshare resort developer included renewing a receivables loan for $40mm and providing a construction loan for $6mm.
Charlottesville, VA & Middletown, CT;  April 2014 – Wellington Financial, the exclusive Resort Finance lending correspondent for Liberty Bank, says the bank has renewed a $40 million loan for Silver Lake Resort, a timeshare development company located in Orlando, Florida. Additionally, the bank provided a $6 million loan for new unit construction at the resort.
"It is very satisfying to partner with Liberty Bank and Wellington Financial as they support Silver Lake Resort's substantial growth," says Silver Lake Resort's CEO, Deborah Moore.  "Our relationship has contributed to the overall success of our resort and we look forward to an even brighter future."
"Since 2009, we have been pleased to provide financing to Silver Lake Resort and are delighted to now be able to   support the further expansion of the resort with a construction loan," observes Liberty Bank Vice President, Relationship Manager David Brede.
Wellington Financial's Senior VP Shawn Brydge says, "Silver Lake employs a robust management team, each with significant tenure at the company.  Their consistency and passion to provide a quality product and wonderful customer experience is evident in the way they run their operation, and that carries over to our lending relationship."
About Silver Lake Resort
Silver Lake Resort (www.silverlakeresort.com) has been awarded the prestigious GOLD CROWN RESORT designation from Resort Condominiums International (RCI). Located within two miles of the main entrance to Walt Disney Resorts, the resort consists of 292 designer-furnished vacation villas, with a mix of one-, two-, and three-bedroom floor plans and the potential for 630 villas and nearly 42,000 owner families upon completion of construction.
About Liberty Bank
Established in 1825, Liberty Bank (www.liberty-bank.com), based in Middletown, Connecticut, is that state's oldest mutual bank, with more than $3.6 billion in assets. Liberty Bank has been actively lending to the timeshare industry throughout the U.S. for over 34 consecutive years. The bank's commitment to superior service has resulted in lending relationships with some of the industry's largest and most successful developers. Member FDIC. Equal Housing Lender.
About Wellington Financial
Wellington Financial (www.wellington-financial.com) is the exclusive Resort Finance lending correspondent for Liberty Bank and specializes in lending to developers of timeshare resorts, fractional resorts and retail land. Founded in 1981, the finance and service company offers a full range of products, including receivables hypothecation, purchase and conduit facilities; pre-sale and working capital lines of credit; acquisition, construction and renovation financing, as well as mezzanine and equity debt financing. President Ron Goldberg serves on the Board of Directors for the American Resort Development Association (ARDA).
Media Contact for Wellington Financial:
Sharon Scott, RRP; Sharon@SharonINK.com
310-923-1269