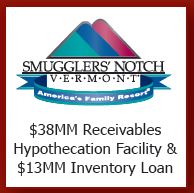 Liberty Bank Increases and Extends Loan to Smugglers' Notch, says Wellington Financial
Wellington Financial says Liberty Bank's Loan to Vermont Timeshare Resort Developer is for end-loan financing for Wyndham Vacation Ownership sales.
Charlottesville, Virginia (June 9, 2011) – Wellington Financial, the exclusive Resort Finance lending correspondent for Liberty Bank, says the bank recently expanded its existing $10 million receivables loan to $30 million with Smugglers' Notch in Vermont. As part of this expansion, Wellington reports the bank also refinanced an existing $12 million loan relationship from a previous lender. The loan was made in conjunction with Smugglers' signing of an exclusive sales and marketing agreement for the sale of vacation ownership interests at Smugglers' Notch Vermont Resort with Wyndham Vacation Ownership. Wyndham Vacation Ownership is the world's largest vacation ownership company as measured by the number of vacation ownership resorts, individual vacation ownership units and owners of vacation ownership interests and is a member of the Wyndham Worldwide family of companies (NYSE:WYN).
"We've been working with the team from Liberty Bank and Wellington Financial for almost two years and are happy to expand on that relationship," says Bill Stritzler, owner and managing director of 'Smuggs.' "Our new arrangement with Wyndham Vacation Ownership is to have them as our exclusive sales and marketing agent for the sale of vacation ownership interests. Plus, our vacation ownership segment will operate as an affiliated resort within CLUB WYNDHAM® Plus, their points-based internal exchange program that allows owners to vacation at more than 70 resorts and enjoy other vacation options and access to special travel opportunities such as cruises and guided tours."
Liberty Bank Vice President David Brede observes, "Smugglers' Notch has been an important timeshare and ski resort developer in their community for many years. Liberty is very pleased to provide continued financing for Smugglers while at the same time augmenting our ongoing relationship with the Wyndham Vacation Ownership branded product line."
Shawn Brydge, senior vice president at Wellington Financial, noted that, "The resort is a terrific four-season destination and management has done a great job of developing a staff that feels more like a family. The entire operation is run with a passion, excitement and professionalism that match that of the Wyndham Vacation Ownership team."