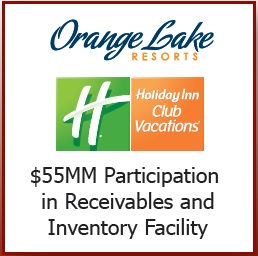 Liberty Bank Participates in $575 Million Revolving Credit Facility for Orange Lake Resorts
Liberty Bank commits $55 Million Participates in $575 Million Revolving Credit Facility
Charlottesville, VA & Middletown, CT – February 2016 / Newsmaker Alert / Wellington Financial, the exclusive Resort Finance lending correspondent for Liberty Bank, says the bank recently committed to a $55 million participation in a $575 million revolving credit facility for Orange Lake Resorts. The company is a leader in the vacation ownership industry under the Holiday Inn Club Vacations brand.
"Liberty Bank has pledged a $55 million commitment as part of the transaction," says Sr. VP of Liberty Don Peruta. "As the oldest lending institution in the timeshare industry, we have been acquainted with the impressive senior leadership team at Orange Lake for many years. We're looking forward to playing a part in their future growth."
"We were pleased that Liberty Bank joined this transaction," says Don Harrill, CEO of Orange Lake Resorts. "They understand our business model and will be great partners as we continue to grow and develop."
"Orange Lake Resorts has an exceptional management team, a focused acquisition strategy, and the capital to support asset purchases of varying sizes," says Wellington Financial VP Shawn Brydge.
About Orange Lake Holdings, LLP   

Orange Lake Holdings is the parent company of Orange Lake Resorts and Silverleaf Resorts, encompassing 26 resorts and 7,200 villas in the U.S., with over 320,000 timeshare owners and 6,000 employees. Orange Lake Resorts, a leader within the vacation ownership industry with more than three decades of proven success, operates the Holiday Inn Club Vacations® brand. It was created in 2008 through a strategic alliance with IHG® (InterContinental Hotels Group), one of the world's leading hotel companies. The Holiday Inn Club Vacations flagship property in Orlando, Fla., located next to the Walt Disney World® Resort, was established in 1982 by Holiday Inn® brand founder Kemmons Wilson. The brand operates 16 resorts across 11 states.
About Liberty Bank                                                

Established in 1825, Liberty Bank (Liberty-Bank.com), based in Middletown, Connecticut, is the state's oldest bank, with more than $4.5 billion in assets. Liberty Bank has been actively lending to the timeshare industry throughout the U.S. for over 35 consecutive years. The bank's commitment to superior service has resulted in lending relationships with some of the industry's largest and most successful developers. Member FDIC. Equal Housing Lender.
About Wellington Financial                        

Wellington Financial (Wellington-Financial.com) is the exclusive Resort Finance lending correspondent for Liberty Bank and specializes in lending to developers of timeshare resorts, fractional resorts and retail land. Founded in 1981, the finance and service company offers a full range of products, including receivables hypothecation, purchase and conduit facilities; pre-sale and working capital lines of credit; acquisition, construction and renovation financing, as well as mezzanine and equity debt financing. President Ron Goldberg serves on the Board of Directors for the American Resort Development Association (ARDA).
Media Contact:
Sharon Scott for Wellington Financial
SharonINK PR & Marketing
310-923-1269
Media Contact for Orange Lake Resorts:
James Woelbern
Orange Lake Resorts
407-395-6984