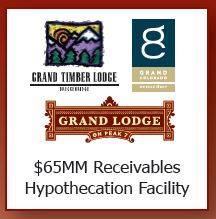 Liberty Bank lends additional $25 million to Breckenridge Grand Vacations for new development

Liberty Bank's Resort Finance Lending Correspondent, Wellington Financial, Says the Bank Closed a Timeshare Loan With Peak 8 Properties, LLC for the new Grand Colorado on Peak 8 in Breckenridge, CO.
Charlottesville, VA (January 22, 2015) – According to Wellington Financial, Liberty Bank recently announced their Resort Finance division had extended their lending relationship with Breckenridge, Colorado-based timeshare developers, Breckenridge Grand Vacations, with an additional $25 million loan to Peak 8 Properties, LLC.
"We've been very pleased with the performance of Breckenridge Grand Vacation's portfolio over the years," says Liberty Bank Vice President Denise Brewer. "Their latest expansion adds another component to their already rich resort offerings. The company's high standard is evident in all they do."
According to Ron Goldberg who is president of Wellington Financial, the exclusive Resort Finance lending correspondent for Liberty Bank, "The Breckenridge Grand Vacations team has demonstrated a fantastic track record in developing, marketing, selling and managing their resorts. We are very impressed with their latest addition, the Grand Colorado on Peak 8, another ski-in, ski-out resort."
"Liberty Bank and Wellington Financial have been great partners for us," says Mike Millisor. "Their strong work ethic, approachability and dedication to customer service mesh well with our own philosophy of doing business. We are pleased to have developed a solid relationship that I am sure will continue for many years."
About Liberty Bank                                    
Established in 1825, Liberty Bank (www.liberty-bank.com), based in Middletown, Connecticut, is that state's oldest mutual bank, with more than $3.6 billion in assets. Liberty Bank has been actively lending to the timeshare industry throughout the U.S. for over 34 consecutive years. The bank's commitment to superior service has resulted in lending relationships with some of the industry's largest and most successful developers. Member FDIC. Equal Housing Lender.  
About Wellington Financial                
Wellington Financial (www.wellington-financial.com) is the exclusive Resort Finance lending correspondent for Liberty Bank and specializes in lending to developers of timeshare resorts, fractional resorts and retail land. Founded in 1981, the finance and service company offers a full range of products, including receivables hypothecation, purchase and conduit facilities; pre-sale and working capital lines of credit; acquisition, construction and renovation financing, as well as mezzanine and equity debt financing. President Ron Goldberg serves on the Board of Directors for the American Resort Development Association (ARDA).
Media Contact for Wellington Financial:
Sharon Scott, RRP; Sharon@SharonINK.com
310-923-1269