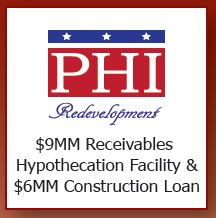 Liberty Bank to Finance PHI Redevelopment's Construction of a Bluegreen Vacations Timeshare Fee-Based-Service Project in Williamsburg
Wellington Financial says Liberty Bank has closed a $6MM construction loan and a $9MM receivables hypothecation loan for PHI Redevelopment, LLC, to develop a new timeshare phase at Bluegreen Vacations Patrick Henry Square in Williamsburg, VA.
Charlottesville, VA & Middletown, CT – February 2015—Wellington Financial, the exclusive Resort Finance lending correspondent for Liberty Bank, announced the bank has committed to a $6MM construction loan for a 25-unit timeshare building, pool and check-in facility with PHI Redevelopment, LLC ("PHI"), as well as a $9MM receivables hypothecation loan.  The new building will be the next phase of Bluegreen Corporation's ("Bluegreen Vacations") Williamsburg, Virginia-based, Bluegreen Patrick Henry Square™ project.  Bluegreen Vacations will provide sales and marketing, project management and loan servicing for PHI.
"We are pleased to be able to provide construction and receivables financing to PHI," said Denise Brewer, Vice President of Liberty Bank. "Bluegreen Patrick Henry Square is in a great location, just a half-block from historic Williamsburg, Virginia. The new phase shows great promise, especially in light of the recent improvement in the U.S. economy."
"Liberty Bank has been lending to Bluegreen Vacations since 2008.  The opportunity to expand the relationship by combining Bluegreen Vacations expertise with the experience of PHI's owner, Andy Anderson, provided the bank with a great deal of comfort," added Shawn Brydge, Senior Vice President of Wellington Financial.
"Given Bluegreen Vacations' long relationship with Liberty and Wellington, we are excited they are lending to PHI for the next phase of Patrick Henry Square.  It's a terrific product in a wonderful location," said David L. Pontius, Executive Vice President, Chief Strategy Officer and President of Bluegreen Services.
"We are happy to have the opportunity to develop Patrick Henry Square with these timeshare industry leaders and provide Bluegreen Vacations owners with an exceptional vacation experience in historic Williamsburg," commented Andy Anderson, President of PHI.
About Liberty Bank                                          

Established in 1825, Liberty Bank (Liberty-Bank.com), based in Middletown, Connecticut, is the state's oldest mutual bank, with more than $3.7 billion in assets. Liberty Bank has been actively lending to the timeshare industry throughout the U.S. for over 35 consecutive years. The bank's commitment to superior service has resulted in lending relationships with some of the industry's largest and most successful developers. Member FDIC. Equal Housing Lender.
About Wellington Financial                          

Wellington Financial (Wellington-Financial.com) is the exclusive Resort Finance lending correspondent for Liberty Bank and specializes in lending to developers of timeshare resorts, fractional resorts and retail land. Founded in 1981, the finance and service company offers a full range of products, including receivables hypothecation, purchase and conduit facilities; pre-sale and working capital lines of credit; acquisition, construction and renovation financing, as well as mezzanine and equity debt financing. President Ron Goldberg serves on the Board of Directors for the American Resort Development Association (ARDA).
About Bluegreen Corporation                

Founded in 1966 and headquartered in Boca Raton, FL, Bluegreen Corporation ("Bluegreen Vacations") is a sales, marketing and resort management company, focused on the vacation ownership industry and pursuing a capital-light business strategy. Bluegreen manages, markets and sells the Bluegreen Vacation Club, a flexible, points-based, deeded vacation ownership plan with more than 180,000 owners, over 60 owned or managed resorts, and access to more than 4,000 resorts worldwide. Bluegreen also offers a portfolio of comprehensive, turnkey, fee-based service resort management, financial services, and sales and marketing on behalf of third parties.  BBX Capital Corporation (NYSE:BBX) and its holding company, BFC Financial Corporation (OTCQB: BFCF), have a 46% and 54% respective ownership interest in Bluegreen Corporation. As a result of their ownership interests, BBX Capital and BFC Financial own 100% of Bluegreen. For more information, visit www.BluegreenVacations.com.
About PHI Redevelopment, LLC                              

PHI Redevelopment, LLC is developing three buildings with a total of sixty-seven units, an indoor pool and check-in facility at Patrick Henry Square in conjunction with Bluegreen Corporation.  Andy Anderson, President of PHI, has been a Bluegreen fee based service developer at Parkside Resort in Williamsburg since 2009.
Media Contact for Wellington Financial:
Sharon Scott, RRP
SharonINK PR & Marketing
310-923-1269