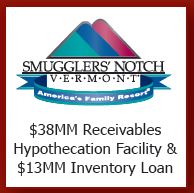 Liberty Bank renews $38MM commitment to Smugglers' Notch according to Wellington Financial
Wellington Financial says Liberty Bank's loan will continue to support ongoing development for the Vermont timeshare resort developer.
Charlottesville, Virginia (July 2015) – Wellington Financial, the exclusive Resort Finance lending correspondent for Liberty Bank, says the bank recently renewed its existing $38 million receivables loan and $13mm inventory loan to Smugglers' Notch in Vermont.
"This inventory loan allows Smugglers' Notch to refocus their construction lender's efforts towards creating new inventory," says Liberty Bank Vice President David Brede. "We believe the growth Smugglers is experiencing is a result of their sound marketing strategy and strong leadership team. It has been very exciting to have this opportunity to participate in this growth."
"We've been working with Liberty Bank and Wellington Financial for more than six years and they have been excellent partners," says Bill Stritzler, owner and managing director of Smuggs. "Their team and ours share similar philosophies about business relationships and this has led to a mutually satisfying and cooperative environment."
Shawn Brydge, senior vice president at Wellington Financial, says, "Smugglers' Notch has always provided a top-tier timeshare product and an unparalleled family activity experience.  They are great community stewards and their continued growth speaks volumes about customer satisfaction. The resort is a terrific four-season destination and management has done a great job of developing a staff that feels more like a family."
About Smugglers' Notch Resort                    

Smugglers' Notch Resort is located in northern Vermont's Green Mountains with skiing and snowboarding for all abilities on 78 trails and 1000 acres of terrain on three mountains. The Resort's extensive family programs have been recognized by SKI Magazine, the Family Travel Forum, FamilyFun Magazine, and Condé Nast Traveler magazine, among others. Lodging includes more than 600 privately owned and timeshare condominiums. Smugglers' has received awards from SKI Magazine, the Vermont governor's office, and other state environmental stewardship agencies for its innovative approach to environmental stewardship. The resort is privately owned by the Smugglers' Notch Management Co., Ltd.
About Liberty Bank                                         

Established in 1825, Liberty Bank (Liberty-Bank.com), based in Middletown, Connecticut, is the state's oldest mutual bank, with more than $3.7 billion in assets. Liberty Bank has been actively lending to the timeshare industry throughout the U.S. for over 35 consecutive years. The bank's commitment to superior service has resulted in lending relationships with some of the industry's largest and most successful developers. Member FDIC. Equal Housing Lender.
About Wellington Financial                      

Wellington Financial (Wellington-Financial.com) is the exclusive Resort Finance lending correspondent for Liberty Bank and specializes in lending to developers of timeshare resorts, fractional resorts and retail land. Founded in 1981, the finance and service company offers a full range of products, including receivables hypothecation, purchase and conduit facilities; pre-sale and working capital lines of credit; acquisition, construction and renovation financing, as well as mezzanine and equity debt financing. President Ron Goldberg serves on the Board of Directors for the American Resort Development Association (ARDA).
Media Contact for Wellington Financial and Liberty Bank:
Sharon Scott, RRP
SharonINK PR & Marketing; 310-923-1269; Sharon@SharonINK.com